Home
Welcome to Holy Angels English High School
Holy Angels English High School, one of the premium English medium school in Mira Bhayandar area was established in 2002 as an outcome of the dream of Mr. Joseph Sebastian, a visionary man whose main objective was to impart a value based education system coupled with the most modern technology in an affordable fee structure for lower income strata of Mira Bhayandar and the adjoining areas.
Holy Angels English High school which started off with a small number of students, progressed immensely within a short span of time under the dynamic and idealistic leadership of the patron Mr. Joseph Sebastian. The school has all the Government permissions & recognition and has turned out to be a sought after educational institution in the entire area where every parent dreams to get admission for their child. The curriculum of the school is an amalgamation of academics, sports, scientific temperament, arts & creativity. Mr. Joseph Sebastian strongly believes in incorporating new methods and technologies in the curriculum and hence to maintain the pace with the New Education Policy, he collaborated with nationally acclaimed curriculum of the Lead School, the Macmillan group & the Eduvate group. Each and every classroom and the laboratories are well equipped with the modern gadgets and apparatus to make the teaching learning process more interesting, simpler & captivating. The number of students in the school has increased to manifolds which itself speaks about quality of education being  imparted here.
We are proud and happy to announce that for the 18th successive year, Holy Angels English High School have achieved 100% results in SSC exam 2022-23. All over students performed very well and we wish them all the success ahead. We also congratulate all parents and teachers for making this grand success possible  
Holy Angels English High School
The year 2022-2023 marks the 20th anniversary of Holy Angels and the Angelians have a lot to celebrate as awards, recognitions and accolades keeps pouring in every year from every sphere of academia. The students have performed exceptionally well by achieving 100% result in SSC exams continuously for last 17 years. Students have won many prizes in intra school competitions in district, state and even in international level. The school has been awarded as one of the best SSC board school in Mumbai as per Times Of India survey.
Along with academic excellence, lots of importance is laid on development of soft skills among students. To instill the spirit of patriotism and love for motherland all the national festivals are celebrated with great enthusiasm. To inculcate values like gratitude, kindness and empathy towards others, several philanthropic activities are conducted at regular intervals. During natural calamities, the staff, students & Management comes together to cater the needs of the griefstricken people by donating money, medicines, clothes, food items etc.
In the endeavor for complete education of a child, Holy Angels English High School where each student is seen as a unique individual with great potential is marching forward with new dreams and aspirations.
Nursery, Junior Kg & Senior Kg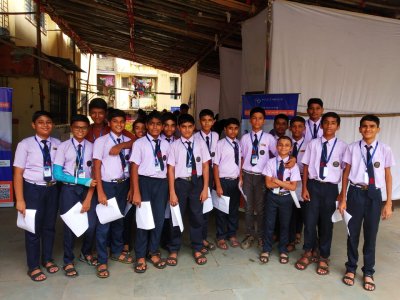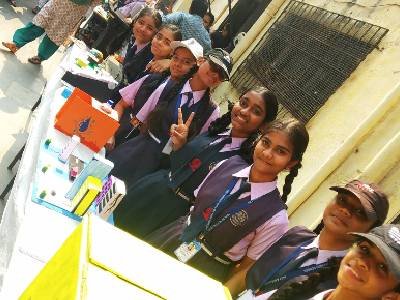 To meet the challenges of New Education Policy, School has tied up with nationally acclaimed Curriculum like Lead, MacMillan and Eduvate. Holy Angels English High School is one of the pioneers in Mira-Bhayander in introducing Coding to acquire Artificial intelligence which is very much in need of the hour and Robotics in the Curriculum and to make our students more global exposure, we introduced French Language course in the Curriculum.
Mr. Joseph Sebastian Chairman
Mrs. Marykutty Joseph Secretary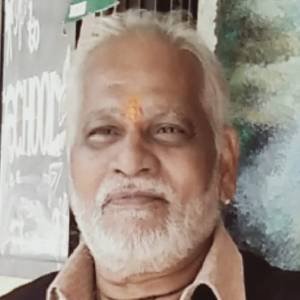 Mr. Sadanand Salian Trustee
Mr. Davis Adarsh Joseph Trustee
Mr. Augustine Joseph Trustee
Mrs. Vidhya Karvir
H.M Secondary Section
Mrs. Beena Viji
H.M Primary Section
Mrs. Geeta Bathija
Pre-Primary Section In Charge
Holy Angels English High School?
Golden Aim Conference Awards-2022
For Excellence  & leadership in Education
Highly Effective Principal in Maharashtra
75th Azadi ka Amrut Puraskar 2022
A token of appreciation presented to Shri. Joseph Sebastian for socio, cultural & Philanthropic work for the society 
Education Supply & Franchise Expo 2023

Principal Sir was conferred with" Education Icon Award 2023″ in recognition of outstanding professional achievement & contribution in the field of Education hosted by ESFE & Skillshare 
Dynergic Business Solution

Awards for excellence & leadership in education 
Akhil Bhartiya nagarik Vikas Kendra - All India Citizens Development Centre
"Ideal Principal Award 2022"
HOLY ANGELS BAGS LEADERSHIP AWARD
Mumbai : Golden Aim Conference and Awards for Excellence and Leadership in Education were presented to Mr Joseph Sebastian, founder principal of Holy Angels English High School, Bhayander East on December 18 in the category of "Highly Effective Principals in Maharashtra."
Activities for the year 2022-2023
Independence Day Celebration
Holy Angels English High School, Bhayandar(E) celebrated 75th Independence Day with great patriotic fervour. To mark the historic event  several cultural programs were organized to commemorate 'AZADI KA AMRIT MAHOTSAV ' celebrations. The National flag was hoisted by  the chief guest of the occasion Mrs. Pooja Harishchandra Amgaonkar along with the Principal Mr. Joseph Sebastian and many other dignitaries. The national anthem echoed in the entire premises as the Chief Guest hoisted the Tricolor.
A free health check-up camp was organised at Holy Angels English High School, Bhayandar  for all the  students and  staff to spread awareness amongst them about the importance of  health. The camp was conducted in collaboration with Health Basix Ltd.  The check up was conducted by a large team of well qualified doctors. The camp was inaugurated by the Principal Mr. Joseph Sebastian.  A thorough body check up including vision, dental etc. was done.  After the check up doctors advised few healthy practices which the students can include in their daily routine to improve the overall physical health.  The program concluded with a report by the doctors about the health of students and staff.  Parents of the students were very happy for such a noble initiative by the school.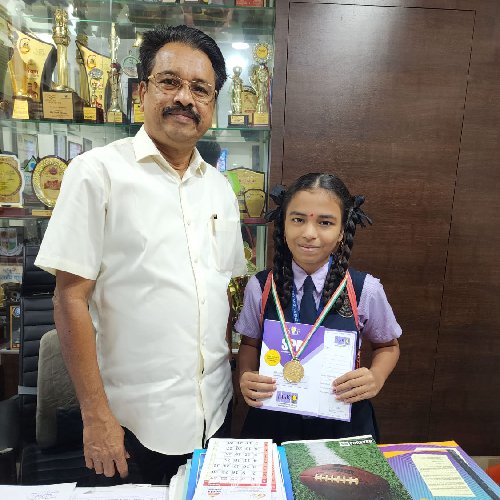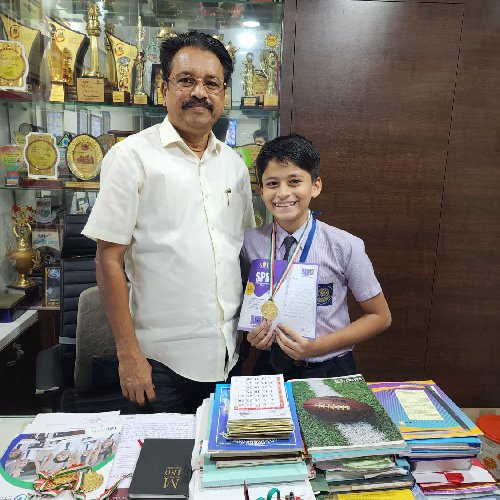 Colors Day For Pre-Primary Section
International Doctor's Day
Holy Angels English High School organized a Diwali celebration program on the last working day of school. All students and teachers were exited that day. The school premises was fully decorated with art works  made by the students. Various cultural programs were presented by the students. The Principal Mr. Joseph Sebastian gave an enlightened speech on Eco- friendly Diwali and requested all ,not to use fire crackers to avoid air pollution..The program ended by distributing sweets to the students and staff. Both teachers and students enjoyed the celebration whole heartedly.